Your Council
Queensland's local government quadrennial elections were held on Saturday, 28 March 2020. Elections were held for mayors and councillors across Queensland's 77 councils.
Declaration of Polls for Hope Vale Aboriginal Shire Council was on 19 April 2020.
The incoming Councillors had their first meeting to confirm matters on Monday 20 March 2020.
It is important for the community to be aware of the roles of the Mayor, Councillors and CEO, as set out in the Local Government Act 2009.
Run council meetings
Carry out civic and ceremonial duties in the community and for visitors
Exercise functions as decided by the council
Perform, where necessary, the functions of the council between meetings

Governance Role:

Direct and control council business in accordance with the Local Government Act
Help achieve the best allocation of council budget for the benefit of the community
Help to create and review council policies and objectives and criteria elating to the exercise of the council's regulatory functions
Review the performance of the council and its delivey of services and the corporate and operational plans and revenue policy of the council

Elected Role:

Represent the interest of the community by listening and acting on any concerns
Provide leadership and guidance to the community
Make the communication between the community and teh council easier
Attend council meetings
Appoint the CEO

The CEO is employed by the council and is generally responsible for its effecient operation and to ensure the implementation of the decisions of the council.

Manage the day-to-day council business and direct the staff
Help with such functions of the council as are delegated by the council
Appoint staff in accordance with organisational structure and budget approved by the council
Elected Members
Every four years residents democratically elect a Mayor and four Councillors as community representatives. Hope Vale Aboriginal Shire Council consists of the following elected members: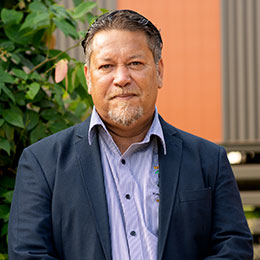 Jason Woibo
Mayor
Governance, Disaster Management and Land
Law and Justice
Council Administration
Disaster Management
Land
Housing
Mayor Jason Woibo was born and raised in Hope vale. He attended our local Hope Vale School and completed his high school years finishing year 12 at St Peters College, Brisbane in 1989.

Jason is married to Laverne with 4 children and 2 grandchildren. He is a very proud Binthi & Dhaarpa man.

Jason was successful on his second run for the position of Mayor for Hope Vale Aboriginal Shire Council. He is grateful for being given the opportunity by his fellow community members and is committed to keep cultural knowledge strong.

Jason completed his Cert IV in Building and had commenced his building apprenticeship with the Council prior to becoming Mayor.

He has a love of anything to do with the beach, whether it be fishing, boating, spearfishing or just relaxing on the beach with his family.

While in the position of Mayor, Jason's priorities are to build employment opportunities, increase housing, strengthen education for our children and boost economic development. He is strongly focussed on improving quality of life in Hope Vale.

He hopes to assist and support training for our youth and Elders in community, including opportunities linked to infrastructure for new development, maintaining accessible roads and improvement of life skills and work ethics across the Hope Vale community.

Jason is an active supporter of all Hope Vale events such as local football, community events and the annual Hope Vale Rodeo.

Read the latest monthly Mayor's message.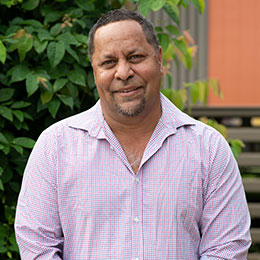 Bruce Woibo
Deputy Mayor
Economic Development / Sport & Recreation
Employment
Economic Development
Church
Animal Management
Councillor Bruce Woibo is in his first term as Councillor voted in by the Hope Vale community. He is a proud Binthi & Dhaarpa man and is Deputy Mayor of Hope Vale Aboriginal Shire Council.

Bruce began his schooling in Hope Vale, moved to Ravenshoe then to Cooktown. After finishing high school he joined the stock gang in Hope Vale and also completed his Carpentry trade.

Bruce has a passion for all things hunting and has a love of music.

Bruce is focussed on increasing employment throughout the community and to build community members life-skills through apprenticeships and other training to further skills.

He aims to drive improvements to employment, economic development, sports and recreation and animal management through his portfolio.
Barry Bowen
Councillor
Infrastructure Services
Building Projects
Essential Services
Civil Construction (inc NDRRA)
Cr Barry Bowen is currently in his second term serving as a Councillor of Hope Vale Aboriginal Shire Council, after first being voted in by his community in 2015.

Barry attended Hope Vale State School and then progressed into St Theresa's Catholic College, Abergowrie until year 10.

Barry is married and has five children, Gerard, Antonio, Barry Jnr, Casiarna & Lashonda.

He previously worked in the building industry for several years prior to a change of profession into Health. Barry has been working with Hope vale's Community Health Clinic for the past ten years.

Barry is an enthusiast when it comes to fishing and anything to do with traditional hunting.

As a Councillor Barry's main priority is to empower people by allowing the communities voice to be heard on issues that affect them.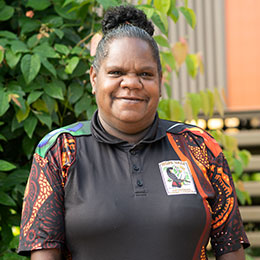 Allison Michael
Councillor
Education and Training
Kindergarten
Child Care
Education
Training
Youth Development
Councillor Allison Michael lived in Hope Vale all her life and comes from Thanil and Balnggarr Warra Clan.

She attended Hope Vale State school then transitioned to St. Mary's Catholic College to further her Education and at Cooktown.

Cr Michael worked as a Transition Support officer for six years then moved on to be an Activities supervisor, where she obtained a variety of Certificates to assist her in her role at My Pathway, Hope Vale (EMG).

Allison, known as Myloa or Mylie to the Hope Vale Community loves all arts, music and sports.

She is eager for Hope Vale Community increase employment opportunities for local people and engage the Community to positively to close the gap. Cr Michael supports, and will work to see an increase for events for our Community and youth.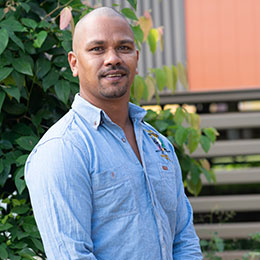 Keithean Bowen
Councillor
Community Well Being
Health
Aged Care
Sport and Recreation
Disabilities
CHSP
Keithean is a Boilermaker by trade and continued in that industry for several years until he became interested in the wellbeing of Indigenous people. In 2017, Keithean started working as a Mental Health Youth Worker. Since engaging in the social, emotional & wellbeing of his community, Keithean has since progressed to become an Indigenous Mental Health Trainer & Assessor within Apunipima and is now visiting other communities as an Adult Alcohol & Drugs Support Worker.

Keithean enjoys spending his time playing sports, embracing all music genres, acknowledging his cultural background, learning his history & practising traditional hunting and fishing.

"My goal whilst I have been given this opportunity as a Councillor, is to help my community reach their full potential and give back to Hope Vale. I hope I can help our community move forward and be heard when it matters most. Without Hope Vale I wouldn't be the man I am today."
Cr Register of Interests
| # | Name | Size (in bytes) | Size | File Type | Download |
| --- | --- | --- | --- | --- | --- |